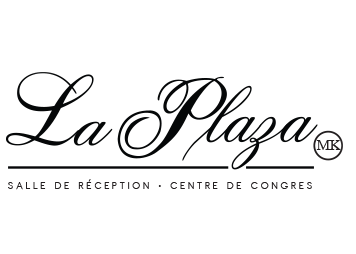 La Plaza is one of Montreal's finest reception halls and banquet halls offering stunning surroundings, exceptional food and personalized customer service. Our reception halls and meeting halls for corporate and social events can be customized to accommodate your group size. Our facilities can accommodate groups of 15 to 800 people. La Plaza's banquet halls and reception halls can be uniquely arranged whether it be for cocktails, special occasions, theatre or classrooms.
Halls
La Plaza Reception Halls specializes in:
Boardrooms, classrooms, Meeting Halls
Sound proof well equipped halls with audio-visual equipment
Cocktail reception halls
Wedding halls
Graduation Balls
Bar Mitzvahs and Bat Mitzvahs
Handicapped accessible
Menus Include
Cocktails
Hot and cold canapés
Punch and Sangria
Unlimited wine service during the meal
Cavatelli Rapini with truffle oil
Mesculin salad with sliced Mandarin and goat cheese, balsamic reduction
Veal Mille Feuilles or ossobucco Milanese served with potato or risotto
Chocolate bombe with home made gelato
Bar Service
Sweet Table
Signature Station
Coffee station
Chair covers, centre-piece, head table décor
Other packages and options available at our location.
Elegant Reception Halls For All Special Events
Located in the heart of downtown Montreal, La Plaza, has ten beautifully appointed banquet halls and spacious reception halls for all your social events, business and corporate conferences. La Plaza hosts glamorous receptions and banquets in a beautiful and enchanting reception halls.
On arrival at La Plaza Reception Halls, guests are greeted at the entrance and cars are valet parked underground. The convention, reception and banquet halls are located on a private second floor of the Evo Sherbrooke facility, easily accessible from the main lobby.
420 Rue Sherbrooke O,
Montréal, QC, Canada H3A 1B4
Tel: (514) 499-7777
Fax: (514) 499-6992
info@la-plaza.ca
www.la-plaza.ca