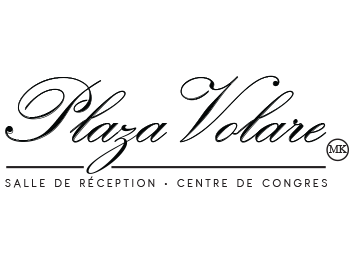 Plaza Volare is proud to be one of the largest Reception and Convention Halls in the Montreal area.The possibilities for events are virtually unlimited, including 15 meeting halls with over 30,000 square feet of flexible function space. No matter the occasion or event size, Plaza Volare can accommodate guests whether in our kosher wedding halls, conventional reception halls, and trade show space or business and meeting halls. The lavish ballroom and reception halls are complete with crystal chandeliers and generous pre-function space. Plaza Volare is the perfect kosher wedding hall that is fully kosher certified complete with kosher kitchens facilities on site.
Halls
Kosher Wedding Halls, Reception
Halls and Facilities
16,000 square foot ballroom
30,000 square feet of flexible function space and 4,000 square feet of pre-function space
Parking for over 1000 cars with Valet Service and two loading docks
Handicapped accessible
Menus Include
Cocktails
Hot and cold canapés
Punch and Sangria
Unlimited wine service during the meal
Cavatelli Rapini with truffle oil
Mesculin salad with sliced Mandarin and goat cheese, balsamic reduction
Veal Mille Feuilles or ossobucco Milanese served with potato or risotto
Chocolate bombe with home made gelato
Bar Service
Sweet Table
Signature Station
Coffee station
Chair covers, centre-piece, head table décor
Other packages and options available at our location.
Exquisite surroundings
As one of Montreal's premiere Conventional and Kosher wedding halls, we offer some of the most beautiful surroundings for weddings and special events. The ball room leads to a beautiful garden and large tent, ideal for summer weddings and an exceptional settings for photo shoots and cocktails. Plaza Volare Meeting Halls and International Rooms can accommodate 2,000 for meetings, conventions and exhibits. The Venise room accommodates groups of 120 to 150 and the Madrid-Rio hosts smaller more intimate groups of 50 to 70, Paris-Rome is designed for groups of 150 to 200, Oslo, Amsterdam and Berlin accommodates groups of 50 to 75 each. There are executive suites for board meetings, lounges, a billiard room, swimming pool, exercise room, restaurant and an outdoor garden and tent. Plaza Volare is situated in the exquisite Crown Plaza Montreal Airport Hotel and offers spacious lobbies, ample free parking, all just steps away from Montreal's International Airport and 15 minutes from downtown.
6600 Cote-de-Liesse, Saint-Laurent, QC
H4T 1E3. Canada
Tel: (514) 735-5150
Fax: (514) 735-6132
info@plazavolare.com
www.plazavolare.com